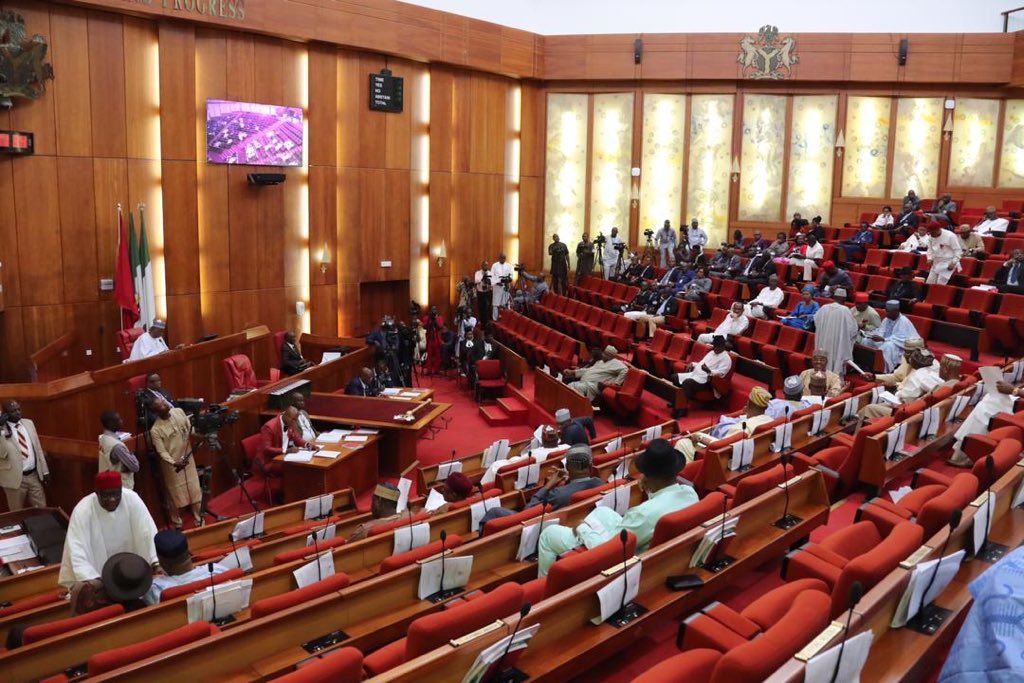 Nigerians everywhere continue to lament the two controversial bills the Nigerian Senate is deliberating: the Social Media Bill and the Hate Speech Bill.
Throughout the weekend Nigerians were sending mails and texts, calling their senators, to let them know their disapproval of the Social Media Bill.
The Social Media bill, "Protection from Internet Falsehood and Manipulation Bill 2019," is seeking to clamp down on the use of social media to comment on politics and governance, with vague clauses that discuss blocking the internet of users in a particular location.
Social media users have shared the contact details of representatives across the country, imploring the people to reach out to them and express their disapproval.
Below are the contact details of the 109 Senators. Don't just retweet, but also take action. Send an email! Send text messages! Call them! Tell your friends and families to do the same! TALK TO YOUR SENATORS!#Thread

— Ólùsó àti Áfàdúràjagun Íjo Patriarchy (@VillageParrot) November 22, 2019
Posts on social media also claim that parts of the Social Media Bill have been copied verbatim from a similar bill in Singapore, with only the country name replaced.
At the end of the day, the Hate Speech Bill was copied from Singapore word for word by brain dead Senator Sani Musa who earns N13.5million monthly for being stupid!
Soon, Nigerians who hailed Buhari and APC would know what they have done to themselves! #SayNoToSocialMediaBill pic.twitter.com/mlMU1c2krF

— أنا أؤمن بالله كحامي ومخلصي Jackson Ude (@jacksonpbn) November 22, 2019
Now, Nigerians are trending #OccupyNigeria and #OccupyNigeriaSeasonII, demanding that people take to the streets to protest not just the Social Media Bill, but the Hate Speech Bill, too, which proposes a death sentence.
See posts carrying the hashtag:
THE SOCIAL MEDIA BILL AND THE HATE SPEECH BILL ARE BOTH AN INSULT AS IT IS A SPITE TO THE RIGHTS OF THE PEOPLE. #OccupyNigeria

— Ikenna 'tou Charis' (@Jizzlejaymusic) November 25, 2019
We won't be held down.

We won't be intimidated.

We won't be cowed.

We are citizens and not slaves.

Nigeria remains a democracy!

Rise Up! #OccupyNigeriaSeasonII

— Henry Shield (@henryshield) November 23, 2019
If all we're going to do I'd tweet about this #SocialMediaBill
And not physically leave our houses, I doubt anything is going to happen.

Imagine if during the first #OccupyNigeria all we did was tweet, do you think anything would have happened.#OccupyNigeriaSeasonII

— Food Police (@ChefOpeyemi) November 24, 2019
Any form of protest in Nigeria under Buhari without police / DSS assault or teargassing is nothing but a politically motivated protest and a pro-government movement.

I think it's time for #OccupyNigeria to resurface. #SayNoToSocialMediaBill #SayNoToHateSpeechBill #Falana pic.twitter.com/DsRhjBPC1R

— AyeMojubar ☣️ (@ayemojubar) November 22, 2019
Even though Nigerians needs to#OccupyNigeriaSeasonII but our fears are so enormous that is affecting us badly. We need total system overhaul in Nigeria. We can only achieve that if we face our fear and #OccupyNigeria with full force

— Alao Abiodun⏺️ (@abset4real) November 24, 2019
The #OccupyNigeriaSeasonII has been trending since yesterday and about to fade out.

Can we have dates and venues before that happens. Let people who can lead lead please🙏

Let it not be another hashtag.

— Baban Talk (@BabanTalk) November 25, 2019
For some of us recently out of Uni, Nigeria has been nothing but a " Banana Republic "

Elections have turned to warfare, economic policy is drowning in okrika socialism.

& when we complain, they threaten us with social media bill.#SayNoToSocialMediaBill #OccupyNigeriaSeasonII

— MAYOWA OLAGUNJU ❁ (@iam_doctormayor) November 25, 2019
I see #OccupyNigeriaSeasonII is trending. Are we truly ready? Is the market woman, the vulcanizer, the vulnerables in the society conscious of this? Are they up for what we are fighting for is beyond party line politics, religion and ethnicity?

— Ọmọ Ọsún (@destayo67) November 25, 2019
What's the essence of life if I cannot speak out in defence of humanity? Death is when you are confined to fear of life.
For my children's sake, #OccupyNigeriaSeasonII is one task that must be achieved.

— Obeweh Laurence Maduabuchi (@Obeweh) November 25, 2019
After years of mediocre service, after years of failed promises SUDDENLY they want to take our voices? Because we are now getting smart and using our voice to condemn their evil deeds, I weep for this country! #OccupyNigeriaSeasonII

— CHOCOLATE COVERED STRAWBERRY 🍫🍓 (@feyi_shonowo) November 25, 2019
Speech on "social media" should not be treated like a collective good that should be subject to political control.
Are You Joining the protest to @nassnigeria on Wednesday? ✊🙋‍♂️🙋‍♀️
⏲️to be announced shortly.
💳 @Bulamacartoons #SayNoToSocialMediaBill pic.twitter.com/9Ip8cMAK1O

— EiE Nigeria (@EiENigeria) November 25, 2019
Having no opportunity in my generation to experience what true democracy and rule of law are in my own country Nigeria. A state where every political apparatuses including the president himself will not be at rest just to save a soul.#OccupyNigeriaSeasonII https://t.co/AuJpPOYdNy

— AyeMojubar ☣️ (@ayemojubar) November 24, 2019
Become a voice, join the people physically, we as Nigerians need to be forefront of this, let the rest of the world support our effort. Not that we waiting for the world i.e. @UN to come help us. Join the #OccupyNigeriaSeasonII rally, be part of it physically, be front n Centre https://t.co/BttWbjhlEr

— DebolaX (@iamdebolax) November 24, 2019
#OccupyNigeriaSeasonII should be the number trending in Nigeria..they want to take away they only thing Nigeria have..electoral act has gone under the bed, they enjoy violence and Nigerians dying on election day.

— amadi ikenna (@Amadi_ikenna09) November 24, 2019
We have been sleeping mentally, time to wake up Nigerian Youth. This is a clarion call, and we ALL must obey that call!!! #OccupyNigeriaSeasonII

— Hero Abdullahi Idris (@edrisabdull) November 23, 2019
What do you expect from a situation whereby employee claimed to be boss at the expense of employer.

My dear @NigeriaSenate whether you like it or not you are accountable to the people in your senatorial district.#OccupyNigeriaSeasonII

— Igboho Oosa (@O_RidwanJayeola) November 23, 2019
What if they successfully sign the social media bill, do you think that would be a leverage for Nigerians to take the fight off social media and #OccupyNigeriaSeasonII?

— Captain Black (@Iam_blac) November 23, 2019
Guys, it's time!! 🚨🚨🚨#OccupyNigeriaSeasonII #OccupyNigeriaSeasonII

Enough of the injustice and also enough of us just ranting on social media, it's time to hit the street!!

Who's in on this??? #OccupyNigeriaSeasonII 🚨🚨

— E B I T U™ (@EbituPromise) November 25, 2019
The post #OccupyNigeria trends as Nigerians Kick Against Social Media & Hate Speech Bills appeared first on BellaNaija - Showcasing Africa to the world. Read today!.