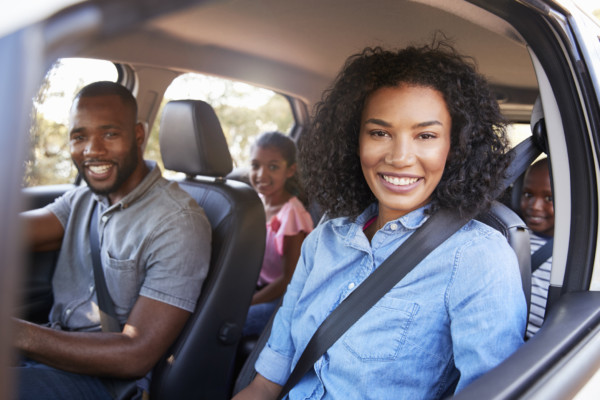 I posted a simulation video of how mothers and babies sit, how they are expected to sit, mistakes made by parents, and the implications of the mistakes, on my Twitter page.
As expected, this simulation generated quite a number of reactions like: "Does the Federal Road Safety Corps conduct similar simulations to road users?", "I love this, very informative", "big lesson", and to other comments like "always wear your seatbelt", "Safety first!", " A good video for all parents"… and many others.
This video has a lot of lessons to be learned. Please watch, learn and retweet.@FRSCNigeria @ayocole @ahlabs pic.twitter.com/B6gdLX3pgy

— Kolawole Ajayi (@kolawole1788) October 30, 2019
Going by the reactions generated, the simulation was obviously appreciated by those who came across it. But to my utmost dismay, out of the numerous comments made, nobody talked about how the simulation depicted the correct sitting position for babies in their baby car carriers or how best to strap a baby in a baby car seat. These reactions further verified my earlier observation of the inappropriate ways Nigerian parents place their babies in the baby carriers. The explanations below are geared towards correcting this mistake and to also promote safety of all babies inside the safety baby car carriers.
A baby carrier as defined by Merriam Webster is a supporting device worn by adults for holding infants close to the torso. This simply means children usually too young and small in size to be held safely by the general seat belt are expected to be held close by a device called a 'baby carrier'. While having children strapped to baby carriers serves as the general standard, it should be known that to optimally perform its functions, a baby carrier is to be placed in a certain position.
Standard Position to place a Baby Carrier
I have observed over the years that a good number of parents casually place their children inside a baby carrier without properly strapping them or placing the baby carriers by the side popularly known as the owner's corner. According to an article titled 'where should you put your car seat?' published on SafeRide 4Kids website, it is advised that the youngest baby in a moving car should be placed in the center rear seating position as the baby is the most vulnerable in a crash. The reason being that the majority of crashes recorded worldwide seem to be frontal impact crashes.
Furthermore, it is not only proper to place your baby in the center rear seating position in your vehicle, but to also make sure this carrier or seat is placed in a rear-facing position. What this simply means is that a baby carrier is to be placed in the middle seat at the rear while also facing the rear position. This has proven, over the years, to be safer when compared to those who make their children face the same frontal position the driver and other older passengers are facing. As said earlier on, most crashes tend to have more negative frontal impact, hence the advocacy of rear-facing baby carrier as this can be 5 times safer in case of a crash.
And for those asking "at what age should my baby attain to turn around the baby carrier?" The American Academy of Pediatrics (AAP) answered by recommending that children should remain in a rear-facing car carrier as long as possible until they reach the highest weight or height specified by their seats (usually 36 inches and 30 to 35 pounds as the case may be).
Benefits of a Properly Placed Baby Carrier
It is a well-known fact that babies generally do have a soft bone structure that can easily be affected or injured as a result of a car crash impact. For instance, as given by Eric C. Evarts in his article titled "Why Kids need Car Seats", he said babies' necks aren't strong enough to hold the weight of their heads whenever they are propelled forward in a crash. So a properly restrained rear-facing baby seat absorbs the crash energy and spreads it proportionally along their body.
In light of the above, it is safe to say the major benefits to be derived from a baby carrier include the safety of children's lives, reduction of crash-related injuries and death for children, enhances proper and normal child's growth, healthy living, and so on.
Andrew Dodge corroborated further on proper child's growth in an article titled Benefits of Babywearing VS. Carseat Carrying. When a baby is lying flat on their back in a car seat for a prolonged period, the gravitational effects on the spine begin to straighten the developing curves. With prolonged time on their backs, babies can also begin to develop plagiocephaly (or flattening of the bones of the skull), thereby causing deformation.
He went further to say that these changes can affect proper spinal joint alignment and weight-bearing biomechanics, ligament development, and strength around the spine and hip joints, muscle tone and a host of others.
In conclusion, parents and guardians are to know that it is not enough to just provide baby carriers for their child(ren), but to also ensure these children are properly placed inside the carriers and strapped accordingly. As noted by Norbert Shtaynberg, a properly installed baby seat should not move further than an inch either way. Adherence to this will ensure children's safety and also lead to reduced death or injuries related to babies' involvement in road crashes.
The post Kolawole Ajayi: You Want to Ride with Your Child… But Is Your Baby Carrier in a Safe Position? appeared first on BellaNaija - Showcasing Africa to the world. Read today!.