When you live in the bustling city of Lagos, believe me, you will give anything for some time to just relax and hang out with friends. Kachi works a full-time job and is very good at what she does but sometimes, a girl has got to play. Her favourite trio has been literally begging her to take some time off, but she keeps saying "This baby girl life won't fund itself oh". But really what's all the struggle for if you can't take some time out to have fun with those closest to you? Another excuse she gave was finding the perfect location that was close to her office in Lekki.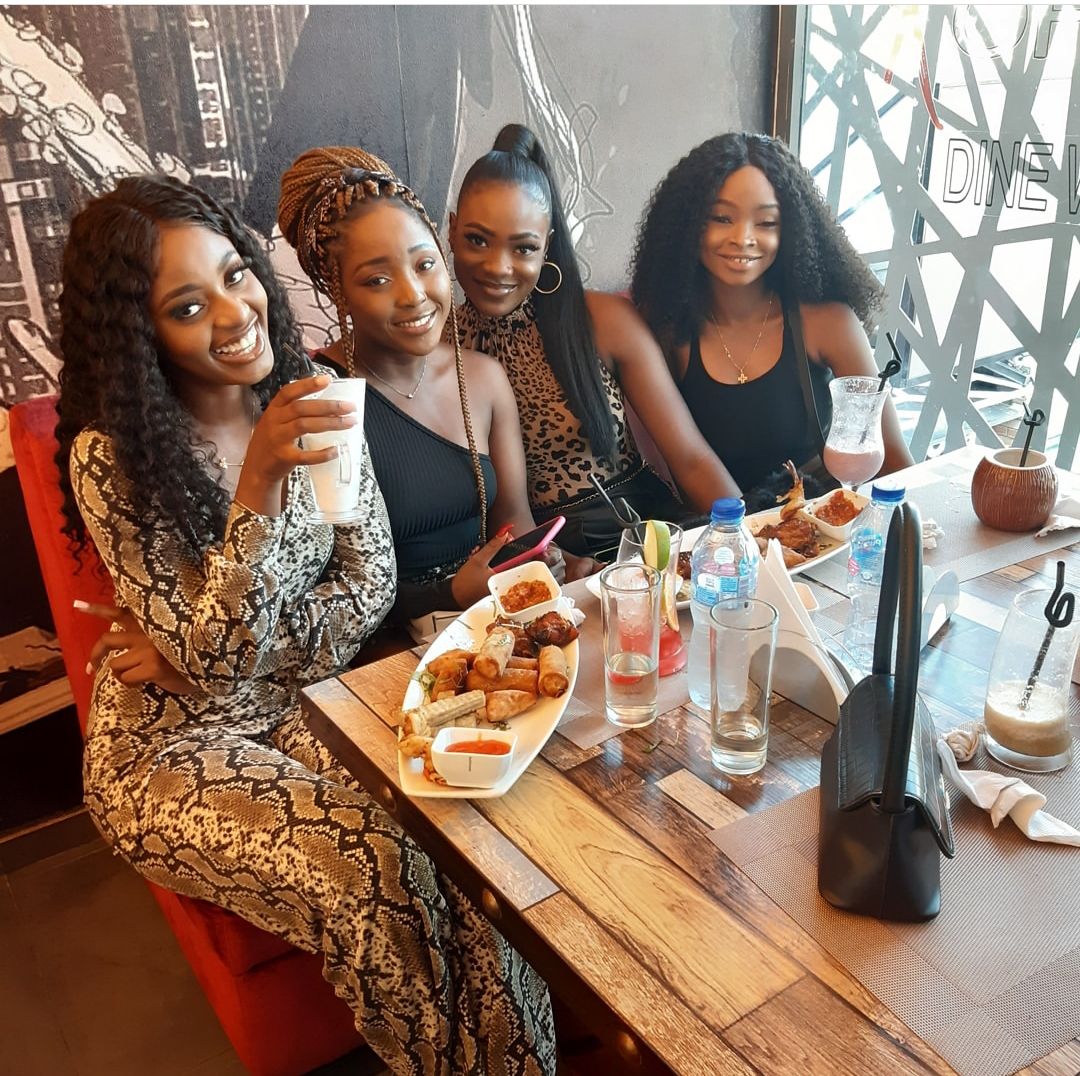 The fave trio went searching and found the spot! Located in the heart of Lekki, "Kohinoor Lagos" was what they all needed for a weekly hang out. Now, among all the reasons that make Kohinoor Lagos perfect is that it has almost anything you want to enjoy under one roof. Mind-blowing yeah? I mean food, drinks, music, shopping mall and a lot more. Allow me to say, that place is the heaven of enjoyment (pun intended).
Let me give you the low-down, so Kohinoor Lagos has:
Kohinoor Restaurant: a classy, elegant, cozy and comfortable space with an exciting and robust menu. Her menu comprises Continental dishes, with an African fusion, designed to cater to the different palates of their diverse clientele.
The Kohinoor Lounge accommodates at least two hundred (200) people, with the offering of an exquisite Private Room that can seat about forty (40) people at a time. This Private Room can be used for meetings, birthday parties, and bridal/baby showers, or just to escape from the bustle of Lagos and relax in a serene environment, and to tranquil music.
The Kohinoor Bar: second to none, manned by a set of skilled Mixologists, who deftly produce a superb assortment of drinks from the best selection of ingredients.
Kohinoor Lagos also has a smoking lounge, which parades the best of cigars and shisha.
Madiba Mart: an upscale supermarket that offers a wide selection of products sourced both locally and internationally. Madiba Mart also dubbed the "friendly store", is where you can get your provisions, toiletries, stationery, beauty supplies, etc conveniently in a clean, friendly and safe environment.
Èlèrán (Meat Shop): your local butcher, located on the Madiba Mart shop floor. Here, you can get your fresh & hygienically kept meat – chicken, beef, goat, oxtail, cow leg, etc., fish, and other processed meat at very affordable prices.
Fast Plates: Everyone has to eat, right? And they can eat sumptuous Nigerian dishes prepared with the highest sanitation standards at their fast food corner. When you think of food when you're on the go, food that is affordable, food portioned to your preference, think "Fast Plates".
Òja (Farm Fresh): The world is fast gravitating towards clean, healthy, wholesome foods but these foods are, at times, difficult to get in our metropolitan Lagos. Òja is here to help with that, by providing a steady supply of fresh fruits and vegetables. The store also has the option of sourcing other local items that you may need on request.
Zara's Treats: a haven for savoury delights, such as ice cream, gelato, cupcakes, pies, sandwiches, etc. Equipped with a state-of-the-art bakery, Zara's Treats also produces bread and pizza for your pleasure.
Coffee 4 2: When you want to relax, alone or with company, to the exciting aroma of delicious coffee, this bistro is your place to be. Coffee 4 2 has her signature coffee blends which you are bound to enjoy.
Oh My Grill (OMG)! This is exactly what you will exclaim when you have a taste of their delectable grills – suya, shawarma, grilled fish, grilled chicken, beef kebabs and accompaniments. OMG is bound to electrify you with an interesting selection of meats, which will keep you coming back for more!
Med Square Pharmacy offers a wide selection of both over-the-counter and prescription pharmaceutical products, with in-house pharmacists that offer professional consultative services.
WorkZone: Millennials seem to be taking over, in terms of business. Kohinoor recognizes this. They also, know that most of these new businesses start small. That notwithstanding, it is not advisable to host such businesses at home. Thus, WorkZone offers work-space, inclusive of high-speed internet, to upwardly mobile business owners and young professionals.
Jack & Jill: This is a food stand, specifically for the children, with treats like candy floss, corn dog, popcorn, ice cream, hot dog, burgers, etc.
Cut 'n' Sip: Cut and Sip is their executive hair salon and nail studio, where customers are pampered while getting groomed. This state-of-the-art barbing salon offers a complimentary glass of wine to customers to sip on while they wait for their turn to be attended to.
Park 'n' Wash: Have your car washed, as you've never had it before, at Park 'n' Wash. Park, cross over to the other side of the road, have a haircut and by the time you're done with the latter, your car is washed!
The Kohinoor (Mall) proves to be your neighbourhood one-stop store and it will be their absolute pleasure having you soon!
You guessed right, Kachi was more than convinced about this Kohinoor place and had to see it. The next Friday, she was at Kohinoor way before her friends got there.
In other news, Kachi is now having more fun, Kachi is happy, be like Kachi.
This super-big and amazing spot is located at 72 Kusenla Road, Ikate Elegushi (Chisco Bus Stop), Lekki, Lagos.
If you are social media savvy like me, you can connect with them on:
You can also contact them on 0906 000 8436 or 0906 944 9994.
Cheers to a great week
———————————————————————————————————————————————————
Sponsored Content
The post Kohinoor Lagos is The New Plug for Relaxation in Lagos & Here's Proof! appeared first on BellaNaija - Showcasing Africa to the world. Read today!.